RLA Collective Bargaining/Mediation Process
Charts

The following diagrams demonstrate the Railway Labor Act negotiation processes for both the Non-Commuter and the Commuter operations. The Non-Commuter diagram applies to all rail freight operations, Amtrak, and Airlines. The Commuter diagram applies to the rail Commuter operations and falls under Section 9 (a) of the RLA (Section 159a. Special Procedures for commuter service).
You may also find helpful the National Mediation Board's (NMB)
Chart
of the RLA collective bargaining process.
The
Char
t from the National Railroad Labor Conference (NRLC) at
RailLaborFacts.org
is more stream-lined than the NMB Chart and reintroduces the possibility of Congressional intervention if agreements are not made after a Presidential Emergency Board. The Potential for Congressional intervention is more of a reality in railroad cases involved in national handling. Click on Pictures, below, to enlarge.
---

In these first two diagrams, immediately above and below, the color red is used to signify when neither party has control of the decision although they both may try to influence it. The main emphasis is to focus on the process in its entirety for a strategic assessment of were the process may potentially lead. Any strategic analysis will vary depending on the participants, the situation in which the participants find themselves, and the the assessment of the mindsets of those third parties that may directly affect the course of the process.



---
These second two diagrams, immediately above and below, were earlier versions; in these a circle is used to show that neither party has control of the decision. These iagrams were done more to focus on the potential for third party direct intervention; it is geared more to risk analysis approach focusing on the decision points with emphasis on third party control in the decision process.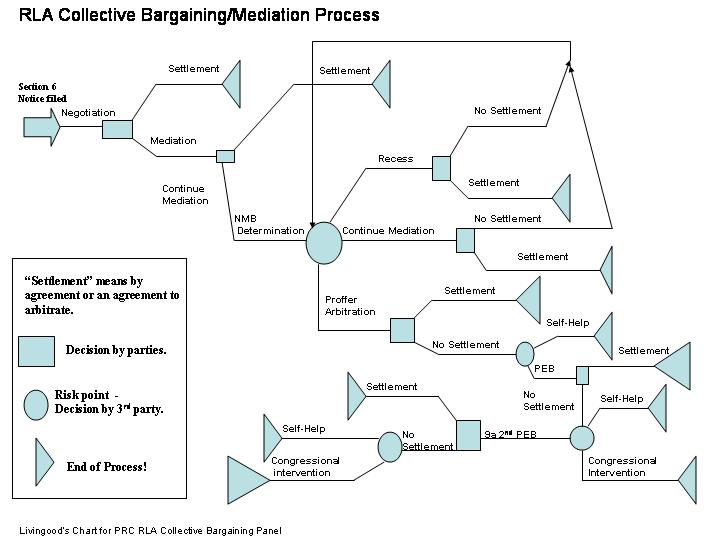 ---
The below chart is another view of the Section 9 (a) Commuter Rail provisions with greater focus on the statutory time requirements of within the time-line of this Process. This diagram is more illustrative of the potential duration of the process. The chart below specifically references the Public Hearing required in the Section 9(a) process if there is no agreement following the 1st PEB.